Covering Walsall, Cannock, Wolverhampton and surrounding areas.
Patio door and sliding door repair
Your search for a reliable and experienced patio door lock repair service ends with me. With over a decade of experience in the industry, as a master locksmith I am more than qualified to take on your repair and replacement needs. Whether your patio door lock is jammed, broken, or simply not working properly, I can help.
In addition to our expert repair services, we also offer replacement services for those who need it. We understand that not all patio door locks are created equal, which is why we carry a wide selection of high-quality locks to choose from. Whether you're looking for a traditional keyed lock or a state-of-the-art electronic lock, we have you covered.
I'm Rick, owner and full time locksmith covering Walsall, Cannock & Wolverhampton.
Our Patio Door Lock Repair Process
Simply give me a call, email me or a Whatsapp and I will give you a quality patio or sliding door lock repair service at a great price, guaranteed.
Personal Patio Door Lock Repair Service, not a call centre
If you are in need a genuine locksmith look no further than Rick's Locksmith & Door Repair. Unlike lots of other services online, I am not a call centre. I am a real local master locksmith that covers Walsall, Cannock, Wolverhampton and surrounding areas. When dealing direct with me you're guaranteed price savings and a fast reliable patio door lock service.
Rick Corfield
Local Expert Locksmith
Geniune Local Locksmith - No call center!
I repair everything from broken lock mechanisms and jammed doors to hinges and patio door rollers.
Ricks Locksmith reviews...
Check out what some of my customers have to say about my 5 star services
Fast, reliable & fair...
Rick locksmith was punctual, reliable and a fair price. He showed me what the problem and suggested what may have caused it. I am very happy with the service. Fast, reliable, trustworthy, polite and friendly. I would definitely recommend them.
Keeps you updated
This Guy, unlike many others, does answer your calls promptly, will keep you updated when he is scheduled to call, does turn up on time and sorts out the job in hand. Cost.. Good value for work completed. Pleasant, well mannered chap. What more could you ask for. I would definitely recommend him if you have any Lock problems.
Brilliant
Rick was brilliant. Reasonably priced. Turns up when he says he will and did a great job. Thank you! Would most definitely recommend!
Reasonable Quote
Turned up on time, reasonable quote given, fast friendly and efficient, door is now repaired.
Windows Fixed
So efficient! Got in touch yesterday morning and now all 3 windows are fixed. Was quick and professional, the job was done in less than an hour. Price was far cheaper than what we were quoted elsewhere too! Can't recommend enough! Thank you Rick.
Landlord's front door
Being a landlord not living in the same city, our tenant had a problem with front door lock, we contacted Rick locksmiths through online search reading positive reviews. We were not disappointed, we received a fast, efficient professional service, Highly recommended
Dedicated Patio Door Lock Repair Near Me
Patio Door Lock Repairs If you have a set of Outdoor patio Doors you may find that with time the locking mechanism becomes challenging to operate. This is usually a sign that the doors might need adjustment, the lock system needs a service, equipments might have broken or they just need an excellent service (patio door lock repair near me).
We can service all designs of patio doors, in addition to all kinds of patio door locks and locking systems, including Multi-Point locks. Wear and Tear Utilizing a set of patio doors will ultimately lead to use with time as they are high traffic items and in constant use. They will end up being misaligned, drop or be significantly difficult to slide open and closed.
If you have actually lost your Patio Door Keys call Christopher The Locksmith professional, as a professional locksmith, we can change any secrets and also cut spares if required, all this can be done on-site or at your home. Outdoor Patio Door Lock Failure If your Outdoor Patio Door Lock has entirely failed, is jammed or is ending up being stiff we have the experience to perform any repair, all collected from over 25 years in the organization.
You can conserve numerous pounds by altering or repairing the locking system, handles, gearing or wheels, having a Patio area Door service and likewise having them realigned. Don't Utilize Double Glazing Business for Repairs The majority of double-glazing companies will tend to avoid bring out repair work on Patio Doors as they would rather replace them at much more expenditure to the client and will generally just offer replacement, instead of repair work.
Crazy information about Patio Door Lock Repair Near Me
Reasons for this fault consist of the door and frame run out alignment, the UPVC door handle has been required approximately lock which has broken the system, general wear and tear or the door being slammed frequently. The door won't close This is a typical issue which is typically caused by the stroke receiver for the latch not being adjusted appropriately or it has actually been loose for a period of time before being set properly, the door trim rubber has moved and is not sitting effectively or is stopping the door from shutting properly.
You may find that the key works however you need to move it about in the lock, this signifies a terribly cut key or used lock. If the door hook or bolt won't pull back in or out then this indicates that one of the multi point hooks or bolts has a broken mechanism or security device.
Lock Solutions accredited locksmith has the understanding required to provide the proper recommendations when it concerns your UPVC windows and doors locks, should you not have a secret for your lock, he can still perform a complete replacement without damaging your doors or windows. UPVC Door Security in Reading Lock options has a series of tools and have actually worked on a series of residential or commercial properties.
Nevertheless, you have to follow each action carefully given that it could be complicated, especially if it is your first time (sliding door lock repair). Table of Contents Altering sliding door lock would be simpler if you have the right tools in your hand. You don't have to worry considering that these items can be discovered inside your home or it can be bought at the nearest hardware shop.
Local Patio Door Lock Repair Near Me
For convenience, search for a lock that has an interior deal with and exterior pull with a key cylinder. It should also have a mortise lock and thumb latch. Choose a lock that could be installed on the sort of door you have, considering that some work just for a particular kind of door.
The screwdriver you require will depend on the type of screws your lock has. If it has a cross-shaped screw head, you will require a Phillips screwdriver. Phillips screwdrivers have different sizes, so you require one that will fit the screws completely. If it is too big, it can damage the screws.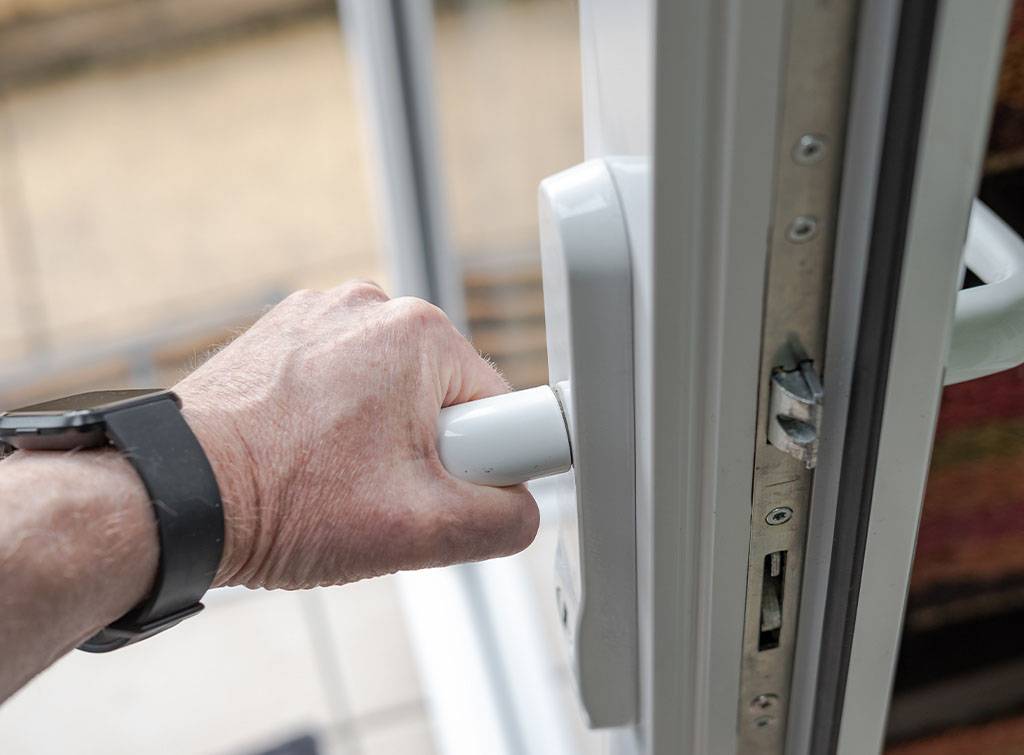 Simply rub the pencil on your secret to coat it with graphite. You can utilize a ruler to measure the width of the door, the space between the holes for the screws, and other measurements of the lock. Before you begin removing the lock, check first if it needs to be replaced or cleaned only – sliding door lock repair near me.
If the lock does not still work after you cleaned it, then you need to buy a brand-new lock to replace the old one. To purchase the best lock for your moving door, you need to eliminate the screws of the handle and dismantle the lock. After that, get the measurements of the lock and the door.
Indepth insights about Patio Door Lock Repair
This would avoid you from purchasing the incorrect one. Set up the brand-new lock on the location where your old one utilized to be located. Place the screws in through the holes and tighten them utilizing a screwdriver. As soon as you are done, test if the lock is working fine by closing and opening the door.
Ensure that the items needed for installation are currently included in the plan so moving door lock replacement would be simpler. Are you pleased after you finished our tutorial on how to change a moving glass door lock? By following the steps above, sliding glass door lock replacement is not an issue.
If you think that this tutorial could likewise help others, why do not you share it with your good friends? This could fix their problems likewise. We would also love to hear your experiences while doing the tutorial. Just leave a remark listed below.
For the very best experience on our website, make sure to turn on Javascript in your web browser.
Indepth information about Patio Door Lock Repair
Ricks Locksmith provides a variety of services connected to doors and locks, as a master locksmith trained to deal with all types of doors consisting of modern uPVC doors. uPVC doors can establish a variety of faults over a period of time, one of which can be an alignment issue occurring in time due to the weight of these doors, triggering the door to come out of positioning.